Chicken Wild Rice Casserole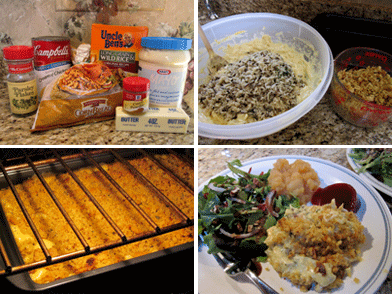 This tasty recipe for Chicken Wild Rice Casserole is one of my family's favorite comfort foods. It is rich and creamy with just a touch of curry and oh so satisfying.

1-6 oz. box long grain and wild rice (I use Uncle Ben's, original recipe)
4-6 bone-in, skin-on chicken breasts (4 cups, cooked)
Kosher salt and cracked pepper
Cooking spray, like Pam
1 large can of cream of chicken soup
1 cup mayonnaise (reduced fat is fine)
1 teaspoon curry powder or more to taste
3 cups of stuffing mix (I like Pepperidge Farm Cornbread variety)
1 stick butter, melted (not margarine)
1 teaspoon dried parsley
Prepare the Chicken and Wild Rice
Preheat oven to 375 degrees. Place chicken breasts on cookie sheet and spray with Pam. Sprinkle each breast generously with salt and pepper. I like kosher salt and cracked pepper because they are chunkier and really season the chicken well.
Bake chicken for 30 minutes then turn the oven off and let it sit in the oven for an additional 10-15 minutes. You can also poach boneless, skinless breasts but I find that the flavor is lost in the water whereas baking bone-in, skin-on chicken ensures lots of moist, flavorful meat.
When cooled, separate meat from skin and bones, shred with fingers and add to a big mixing bowl.
Cook rice according to directions on box and add to chicken.
Prepare the Casserole
Reduce oven temperature to 350 degrees and spray a 9 x 13 pan with cooking spray.
Add soup, mayo and the curry powder to the chicken mixture and combine well. Add milk if you like a saucier consistency. Turn mixture into the 9 x 13 pan.
Add butter to a small bowl and melt in microwave for 1-2 minutes. Add stuffing mix and parsley to butter to create a topping and spread evenly over the Chicken Wild Rice casserole.
Bake 45-60 minutes until bubbly and topping is browned. Makes 6 servings
When I made the meal above, I served the chicken rice casserole with jellied cranberries, a salad and this recipe Warm Cinnamon Applesauce.
NOTE: I now have two vegetarian kids. For them, I substitute cream of mushroom soup and cooked broccoli.
Click here for more Main Course Recipes.