Chicken With Chocolate Sauce
I will go out of my way for a great Chicken with Chocolate Sauce meal and have tried it in every local Mexican restaurant that serves it.
Unfortunately I have found that not all Mexican restaurants make it the way I like it which is why I started investigating how to make it at home.
The rich Mexican chili sauce that covers the chicken is known as Mole and is made with chocolate and spices.
My husband isn't really a fan of this dish I think because it has a slightly sweet taste, but for that very reason I love it! There are a lot of ingredients but all are necessary and very worth it.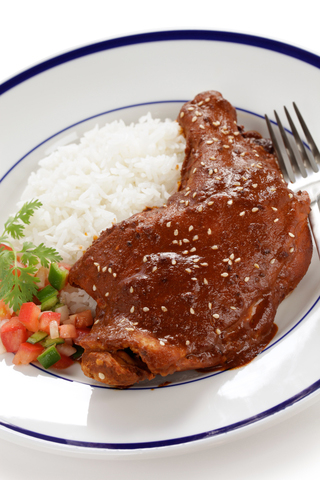 Chicken With Chocolate Sauce Ingredients
4 tablespoons olive oil
2 cloves garlic, minced
6 chicken breast halves, skinless and boneless
1 onion, chopped
1 green pepper, chopped
3 slices canned pimento, chopped
2 tomatoes, peeled, seeded and chopped
2 tablespoons chili powder (or to taste)
2-1/2 cups chicken broth
1/4 cup slivered almonds
1/4 cup raisins
1/2 teaspoon cumin
1/4 teaspoon nutmeg
1/4 teaspoon ground cloves
1/4 teaspoon cinnamon
1/2 teaspoon salt
1/4 teaspoon pepper
1 teaspoon sugar
Grated rind of 1 orange
2 squares bitter chocolate, chopped
1/4 cup light rum (optional)


Preheat oven to 350 degrees.
In a casserole, heat oil and cook garlic for a few minutes to flavor the oil. Add chicken just to brown (it will finish cooking in the oven) and then remove it from the pan.
In the remaining fat, cook onion, green pepper, pimento and tomato over gentle heat for 10 minutes. Add chili powder, blending well.
Add broth, almonds, raisins, seasonings and rind. Simmer, covered, for 30 minutes then add the chocolate and stir until melted.
Add chicken back in and spoon sauce on top. Cover and bake for 1 hour or until chicken is tender.
Optional: Warm rum, ignite it and pour over contents of casserole. Allow to stand for a few minutes until flame is extinguished and then serve on a large platter.
Serves 6.
Another Version of Chicken Mole, Martha Style
As I was testing out recipes, I came across this one done by Martha Stewart. I saw that it's made in a Crock Pot and thought how much easier this version would be.
Once I gathered up all the ingredients, all I had to do was chop up the chocolate and roughly chop the garlic and onion. The blender and the Crock Pot did all the work.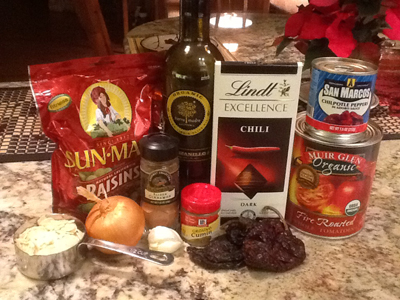 Chicken Mole Ingredients
4 pounds boneless, skinless chicken thighs (about 12)
Coarse salt
1 can (28 ounces) whole tomatoes
1 medium yellow onion, roughly chopped
2 dried ancho chiles, stemmed
1 large chipotle chile in adobo sauce
1/2 cup sliced almonds, toasted
1/4 cup raisins
3 ounces bittersweet chocolate, finely chopped (1/2 cup)
3 garlic cloves, smashed and peeled
3 tablespoons extra-virgin olive oil
3/4 teaspoon ground cumin
1/2 teaspoon ground cinnamon
Fresh cilantro leaves, for serving
Season chicken thighs with salt and place in a 5-to-6-quart slow cooker.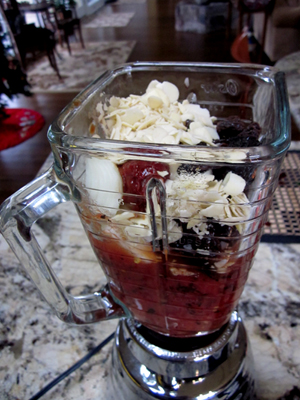 In a blender, puree tomatoes, onion, ancho and chipotle chiles, almonds, raisins, chocolate, garlic, oil, cumin, and cinnamon until smooth.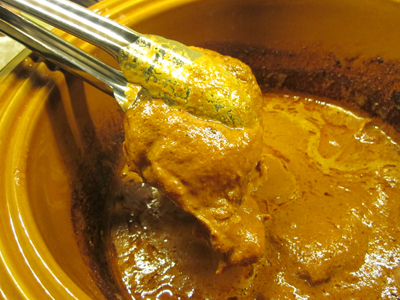 Pour tomato mixture over chicken thighs in slow cooker, cover, and cook on high until chicken is tender about 8 hours on low.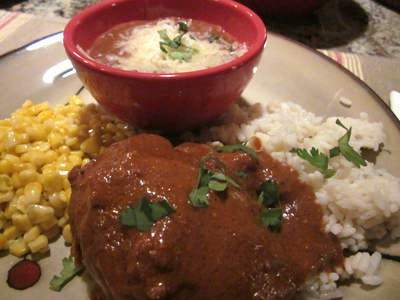 This recipe will easily serve 4-6 people. I sprinkled the chicken with cilantro and served it with corn, white rice and a bowl of seasoned refried beans topped with queso cheese. There's alot of sauce so I served it on the side, a great accompaniment with the rice.
This Chicken with Chocolate Sauce recipe was a hit in my house. Even my hubby like it. It's flavorful but not too spicy and has just a hint of sweetness to balance everything out.
The chicken was fall-apart-perfection.Just as good if not better than any Chicken Mole I've had in a Mexican restaurant.
This would be a great recipe to serve at a Mexican Fiesta theme party. Whip up some of our favorite Golden Margaritas to go with this meal and you will have some happy guests!