Golden Margarita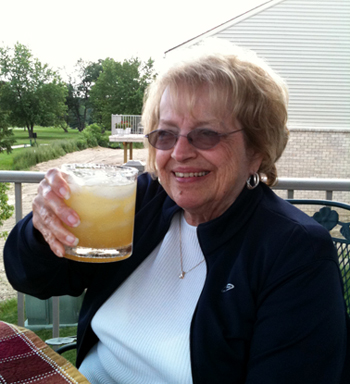 There is a story behind this Golden Margarita recipe. Several years ago, my husband and I were sitting at a cute little beachfront bar in Vero Beach, Florida. The bartender asked us for our order and I wanted to try something new. He told us that he makes a "mean margarita."
I told him that my experience with margaritas up to that point was not very good. Every time I tried one, they were either so tart that my face would pucker up or the sour mix was so acidy that it burned going down.
He claimed that his "Golden Margarita" would be different. One sip and I agreed that his was the best margarita recipe I have ever tasted. We have been replicating it at home ever since.
That's my mother in law above. She's not a big drinker but she loves it when my husband makes her one of his now famous Golden Margaritas.

How To Make a Margarita, Vero Beach style
1-1/2 oz. premium Tequila
1/2 oz. lime juice
3 oz sour mix
1/2 oz. Grand Marnier (can use Cointreau or Triple Sec)
2 oz. orange juice
Lemon and Lime wedges for garnish
Salt for rimming glass (optional)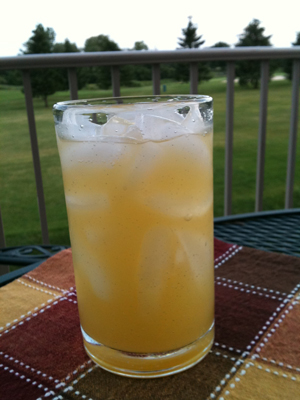 Dip the rim of a margarita glass in water then salt.
In a shaker, combine tequila, lime juice and bottled sour mix with ice cubes. If you are like me and are not so fond of bottled sour mix, try our recipe on this page for homemade sour mix.
Shake well. Pour contents, with ice, into the glass. Gently pour the Grand Marnier and then the orange juice on top of the tequila mixture. Garnish with the lemon and lime wedges.
When you take a sip of this drink, first you get the sweet taste of the orange liqueur and juice then you get the tartness of the lime and sour mix. The combination makes a perfectly smooth Golden Margarita. See the orangish color? That's what you're going for.
Are you hosting a Cinco de Mayo bash? This margarita is the perfect cocktail for your party and you will find many more Cinco de Mayo recipes and ideas here.
Unique Margarita Glasses
Take a look at these unique margarita glasses from our partner, Novica.com. All pieces are handmade by artisans from around the world. Each is truly a masterpiece. They fit nicely in your hand and are big enough for your best margarita recipes.
Purchases made through Novica.com support the artists and their families and provide you with glassware that is undeniably unique. Imagine a Golden Margarita served in one of these beauties!