Chili Grilled Salmon Kabobs
This recipe for Chili Grilled Salmon Kabobs is full of flavor and perfect for dinner parties and small outdoor gatherings. If you don't want to make kabobs, use the marinade for salmon filets and serve with a couple of side dishes like I did in this photo.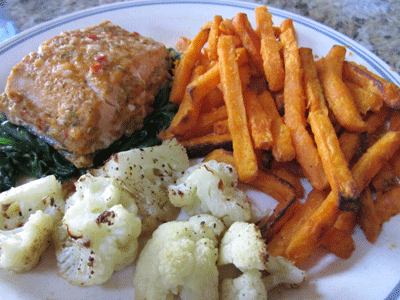 All you have to do is marinate the salmon fillets for a couple of hours then grill them about 6 minutes on each side. I served the fillets on a bed of sauteed spinach with garlic and a side of roasted califlower and sweet potato fries.
Marinade for Kabobs or Fillets
1 medium ancho chile, chopped
1 medium chipotle pepper in adobo sauce, chopped
1 tablespoon olive oil
Juice of 1 lemon
Juice of 1 lime
2 cloves garlic, chopped
1/2 teaspoon oregano
1/2 teaspoon cumin
1/2 teaspoon salt
Kabobs Ingredients
1 small onion, chopped
2 pounds salmon, cubed
8 wooden skewers
Guacamole
10 inch tortillas, warmed
Cilantro, chopped


Spray with cooking oil and then preheat your grill. Soak skewers in water for 30 minutes to keep them from burning.
In a food processor, combine chiles with the oil, the juices, garlic, seasonings and the onion. Process to a paste.
Combine paste with salmon. Mix well and marinate for 2 hours. Thread salmon on skewers and grill or broil for 5 minutes per side.
Place tortillas in a warmer and microwave for a minute or two. Serve Chili Grilled Salmon Kabobs with warm tortillas, guacamole and cilantro.
Serves 4.