Chocolate Amaretto Cake
A few years ago, my hairdresser gave me this really cool card and on it was this recipe for Chocolate Amaretto Cake. We had already been invited to a New Years Eve dinner party so I decided to make this beautiful, elegant cake.
Wow, what a presentation it made! It looked so scrumptious when displayed on my grandmother's pedestal cake stand. I was so proud serving this Amaretto almond liquor cake and everybody loved it. Here's how I made it.
Cake Ingredients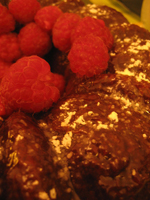 1 pkg. chocolate devils food cake mix
1 small pkg. instant chocolate pudding mix
4 eggs
1 cup milk
1-1/2 oz. Amaretto almond liquor
1/2 cup vegetable or canola oil
1 cup semi sweet chocolate chips
1 cup fresh raspberries (optional)
1/2 cup seedless raspberry jam (optional)
Whipped cream (optional)
Amaretto Glaze
1 stick butter
3/4 cup sugar
1/2 cup Amaretto almond liquor
Preheat oven to 325 degrees. Combine first 6 ingredients and blend well. Stir in chips. Grease and flour a bundt pan. Pour batter into the prepared pan.
Bake for 1 hour or until toothpick comes out clean.
Melt glaze ingredients in a saucepan or microwave. Pour 2/3 of glaze over top of cake while cake is hot from oven and still in pan. Allow cake to remain in pan for 25 minutes. Remove cake from pan and drizzle with remaining glaze.
To decorate it, fill the middle of the cake with fresh raspberries. Then make a raspberry puree by melting the jam in the microwave.
Each lucky guest gets a plate with some of the puree, a slice of cake, a few berries and some whipped cream. Yum!