Best Dessert Recipes
We named this list our "Best Dessert Recipes" because they all are easy to make, taste great, have few ingredients and are easily adjustable for any number of party guests.
First, we give you a basic vanilla cupcake recipe that is a canvas for any kind of cupcakes you want to build. Choose an icing recipe below, decorate your cupcakes with some sprinkles and you've got yourself a party!


Featured Dessert Recipe - Vanilla Cupcakes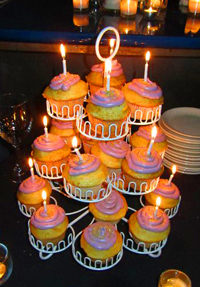 Cupcakes are no longer just for little girl parties. Just as any finger food, cupcakes are the perfect dessert for guests of all ages because they are easily handled and are a feast for the eyes, especially if displayed on a cupcake tower like this one.
Gourmet cupcake shops are turning up all over the place including in my small, midwestern hometown. Generally these shops have 3 or 4 basic cake flavors, like vanilla, chocolate and spice, and then they fancy them up with several different frosting recipes and decorations.
Let's start with a quality recipe for Vanilla Cupcakes.
2-3/4 cups all purpose flour
1-1/2 tsp. baking powder
1/2 tsp. salt
1 cup (2 sticks) unsalted butter, softened
2 cups sugar
4 large eggs (at room temperature)
1 cup milk
1 tsp. vanilla
Preheat oven to 350 degrees. Line two muffin tins with papers for cupcakes.
In a small bowl, combine flour, baking powder and salt. Set aside.
In a large bowl, cream together butter and sugar. Add eggs, one at a time, beating well after each addition.
Add the dry ingredients in three parts, alternating with the milk and vanilla being careful not to overbeat (makes cake tough).
Fill cupcake liners 3/4 of the way full and bake for 20 to 25 minutes. Cool vanilla cupcakes in tins for 15 minutes then cool completely on wire racks. Makes 2 dozen cupcakes.
Note: There are a few more recipes for cupcakes listed below with our other best dessert recipes.
---
Frosting Recipe 1
This Buttercream Frosting Recipe is perfect for cakes or cupcakes. Alter it, if desired, by exchanging the vanilla flavoring for other extracts like orange or lemon. Add a couple of drops of food coloring if you want colored frosting.
To make cupcakes like the ones above, use strawberry extract and red food coloring. Put strawberry frosting into a pastry bag with a 1M star tip and make the swirl moving from the outside into the middle. So professional looking and perfect for any theme party.
Ingredients
1/2 cup shortening
1/2 cup butter, softened
1 tsp. vanilla
4 cups confectioners sugar
2 tablespoons milk
Cream shortening and butter. Add vanilla, sugar and milk. Mix until light and fluffy. Refrigerate until ready to frost cupcakes. Makes 3 cups.
---
Frosting Recipe 2
This Chocolate Buttercream Frosting Recipe would be perfect on any flavor of cupcake but slatered on vanilla cupcakes is my fav!
Ingredients
2/3 cup butter, softened
3/4 cup cocoa
1-1/2 tsp. vanilla
3 cups confectioners sugar
5 to 5 tablespoons light cream or milk
Mix all ingredients until light and fluffy.
---
Frosting Recipe 3
This Brown Sugar Frosting Recipe is great on spice and chocolate cupcakes.
Ingredients
1 cup light brown sugar, packed
2 tablespoons white sugar
1/4 cup shortening
1/2 tsp. vanilla
1/4 cup milk
Combine ingredients in a saucepan and bring to a boil over a medium heat. Cool 5 minutes, then beat by hand until spreading consistency is obtained.
---
Frosting Recipe 4
This Fluffy Cream Cheese Frosting Recipe is classic on carrot and spice cakes but is also yummy on chocolate cupcakes.
Ingredients
8 oz. cream cheese
1/2 cup butter
1 tsp. vanilla
3 to 3-1/2 cups confectioners sugar
Mix all ingredients until light and fluffy.
---
Kahlua Frosting Recipe
Well this Kahlua frosting recipe doesn't need an introduction. My mouth is watering just thinking about it, Kahlua lover that I am.
6 tablespoons butter, softened
1 lb. powdered sugar
3 tablespoons unsweetened cocoa powder
3 tablespoons Kahlua
2-3 tablespoons hot coffee
In a bowl, cream butter then add sugar and cocoa. Beat while adding Kahlua.
Continue beating while adding hot coffee to a thick, smooth consistency. Frost your favorite cake or cupcakes with this delicious dessert concoction!

Other Best Dessert Recipes
In addition to all the fabulous cupcakes above, consider any one of our best dessert recipes below for your next theme party. All of these dessert ideas are crowd pleasers. People love them.
Also check out my friend Granna's site for some Easy Cake Recipes. The Hummingbird Cake recipe looks amazing.