Chocolate Kahlua Cupcakes
Just about every recipe I have posted on this site that has Kahlua in it is a visitor favorite. I expect this recipe for Chocolate Kahlua Cupcakes to be just as well liked.
Have you looked at the ingredients? Served with Baileys coffee, they are the perfect end to a delicious meal.

Cupcake Ingredients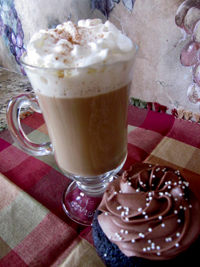 2 cups sugar
1-3/4 cups all-purpose flour
3/4 cup unsweetened cocoa
2 teaspoons baking soda
1 teaspoon baking powder
1 teaspoon salt
1 cup buttermilk
3 tablespoons Kahlua
2 eggs
1 cup boiling water
1/2 cup vegetable oil
1 teaspoon vanilla extract
Preheat oven to 350 degrees. Line cupcake tins with paper liners.
Combine dry ingredients in large bowl. Add buttermilk, Kahlua, eggs, water, oil and vanilla; beat on medium speed of mixer 2 minutes (batter will be thin). Fill cups 2/3 full with batter.
Bake 15 minutes or until wooden pick inserted in center comes out clean. Remove cupcakes from pan. Cool completely.
Kahlua Buttercream Frosting Recipe
Can you imagine these luscious cupcakes topped with Kahlua frosting? My mouth is watering just thinking about it, Kahlua lover that I am.
6 tablespoons butter, softened
1 lb. powdered sugar
3 tablespoons unsweetened cocoa powder
3 tablespoons Kahlua
2-3 tablespoons hot coffee
Sprinkles
In a bowl, cream butter then add sugar and cocoa. Beat while adding Kahlua.
Continue beating while adding hot coffee to a thick, smooth consistency. Frost cupcakes with this creamy chocolate frosting and top with sprinkles. Makes 30 cupcakes.
This is a great cupcakes recipe for adult parties because it makes alot and it contains alcohol for a more sophisticated flavor.
Another Option - Brown Butter Kahlua Frosting
6 tablespoons butter
3 tablespoons Kahlua
2 tablespoons milk
4 cups (1 lb) powdered sugar
Melt butter in a large saucepan over low heat until lightly browned. Remove from heat and add Kahlua, milk and powdered sugar. Beat until smooth. Frost the cooled cupcakes using either a spatula or piping bag.