Christmas Party Decoration
Natural Christmas Decorations

Over the years, I have come to rely on a few very inexpensive Christmas party decoration ideas. Most of them are natural, meaning they are made with items right out of my own backyard and with items like fruits and nuts.
Using natural Christmas decorations like in years past, give your home an old style feeling of warmth and welcome. Just what you want to achieve when entertaining party guests.
Old Style Tree Decorations - Cranberry Popcorn Garland
Probably the most common old style decoration for Christmas trees is cranberry popcorn garland. It is so easy to make.
For 3 Strings of Cranberry Popcorn Garland You Will Need:
Three pieces of heavy duty thread 5 feet long each
One needle strong enough to poke through cranberries
Three cups of popped popcorn
One bag of fresh cranberries
First, divide popcorn and cranberries into three equal piles.
To make a string of garland, thread the needle and then tie a double knot at the other end of the thread.
Beginning and ending with cranberries, thread popcorn and cranberries in a pattern of your choice (two cranberries, three pieces of popcorn, two more cranberries or whatever) until the pile is gone.
Repeat until 3 strings of garland, 5 feet in length are completed. Use these old style decorations to dress up, not only your tree, but also the mantle, door frames and tables.
This is an excellent Christmas party decoration and craft to do with children 8 to 12 years old. At this age they are old enough to safely handle a needle and are patient enough to stick with the process until completion.
Modification: You can make them more colorful by adding dried fruits. Apricots work especially well.
Natural Tree Ornaments - Made With Pine Cones and Paper
When my kids were in pre-school, they made some of the cutest, home made decorations and gave them to us as gifts. I still have them to this day and cherish every single one of them.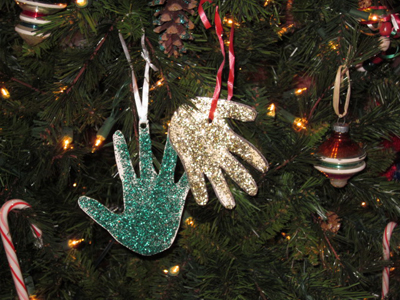 There are two in particular that come to mind. One is simply a pine cone that has been decorated with glitter and a string was tied on so it can be attached to the tree. You can see it in this photo just above the hands.
The second home made decoration was made with paper. For the first 2 years my son was in pre-school his teachers traced his little hand, cut out the shape, punched a hole and threaded a piece of colorful ribbon through it.
I hang them all near each other so you can see how his hand changed from age 2 to age 3. Now he is a grown man with hands twice the size of mine!
My sister-in-law also gave us an ornament made with half of a walnut shell. The shell serves as a cradle and she placed in it a tiny mouse she had made out of material and felt. It's the cutest little hand made ornament!
Every year I unbox these natural Christmas decorations from the tree and hang them ever so carefully. I will post pictures of them when I set up my tree this year.
Natural Holiday Centerpieces - Using Pine Cones
Christmas is the perfect holiday to use what you have in your yard. I am fortunate to have pine trees so I harvest the pine cones that have fallen on the ground and dress up my front porch, fireplace hearth and tables with baskets of them.
Buy some spray glitter and decorate the pine cones to match your color theme. Easy, natural Christmas decoration and very inexpensive!
Using Fresh Flowers
Recently I was in Las Vegas and I snapped this picture in the lobby of the Mirage hotel. I liked this fresh flower arrangement because we visited in the Fall and they added mini pumpkins to make them more festive.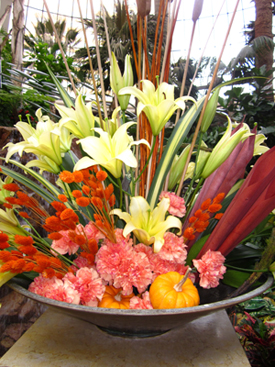 By starting off with a base of neutral colored daylilies, they created the perfect backdrop for really any kind of holiday table centerpiece.
The addition of cat tails in the back was a great way to add height and depth of color.
I thought these would be perfect on a buffet table. You could add pumpkins and gourds for Thanksgiving or holiday picks for Christmas.
Look at how elegant this table looks done by my friend Lara. A simple use of white roses in a rectangular vase. The shape of the vase is perfect when your table isn't very wide. The use of white flowers creates a subtle addition without drawing attention away from the beautiful place settings. Well done!
Visit our holiday table centerpieces page for more fresh flower centerpiece ideas.
Floating Candle Centerpiece
You can do so many things with this Christmas party decoration idea. Use what you have around the house, like hurricane vases or crystal bowls.
Fill them three quarters of the way full with colored items, like fresh cranberries, glass beads or stones. Even fresh flowers will work for short periods of time. Top off with water then float lighted, unscented candles in the middle.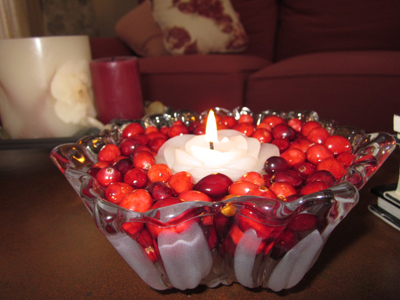 For centerpieces that will NOT be displayed in food areas, try lining your vases with small pine branches before you put in the cranberries. The green of the branches really sets off the red cranberries and the white floating candles and creates a subtle pine fragrance.
The reason I do not use pine branches in my food areas is because I don't want the pine smell to compete with the food aroma. People eat with their eyes and nose before their mouth so food smell is important and you don't want food smelling like pine trees!
I was recently at a wedding and this was one of 3 table centerpieces they used in the dining room.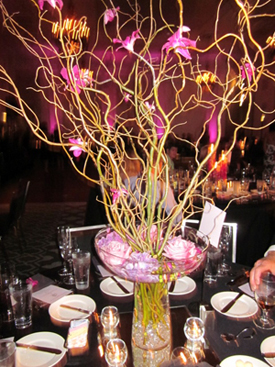 They started with a large glass container and put about 2 inches of clear glass stones in the bottom. Then they stuck in long, curly sticks and arranged them to make it look like a tree, added water and floated candles and flower petals on top.
Next they stuck fushia colored fresh flowers onto the sticks and set the centerpieces on mirror squares and surrounded them with white votive candles.
Find more floating candle centerpiece ideas here.
Fruited Pine Garland
I saw this on The Food Network and really loved the idea. Take fresh greens, like pine garland, and run them down the middle of the table. Then among the greens place fresh fruit (pomegranates, limes, lemons, apples and grapes work well) and votives with white candles. Use unscented candles, again, so they don't compete with your food.
Natural Decorations For Your Mantle
One of my favorite natural holiday decorations is to use pine branches from my backyard trees to decorate my fireplace mantle.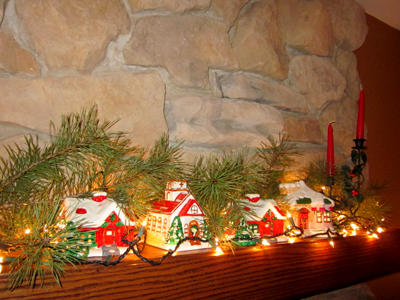 First I position my nativity figurines, or cottages as shown here, and then lay the branches behind them so they form a backdrop. Next I use smaller pine branches to fill in the empty spaces and finish off the look by weaving white lights in between the branches and around the figurines. Sometimes I add pine cones if I have room.
Such an easy and inexpensive way to add color and get that natural pine fragrance going throughout your home. Speaking of fragrance...
In addition to using pine branches and candles for Christmas party decoration and scent, I sometimes use this Pot Pourri recipe:

Holiday Pot Pourri
3 cups of Apple Cider
1 orange, sliced
10 whole cloves
3 cinnamon sticks or 1 tsp of cinnamon
Simmer in a crockpot with the lid cracked or on the stove top.
When you need ideas for a Christmas party decoration, remember these very inexpensive, natural holiday decoration ideas.
Not Natural But Still Nice
When I host a party, I never miss lighting my favorite Yankee Candles called Christmas Eve. Somebody gave me one of these candles as a gift and I love them so much, I use them throughout the year even though they are called "Christmas Eve." They smell heavenly!
Another super easy Christmas party decoration that really makes any area in your home sparkle is to use crystal bowls or hurricane vases from around the house and fill them up with ornaments.
You can buy them very inexpensively in practically every color, shape and size. Some are glass; others plastic.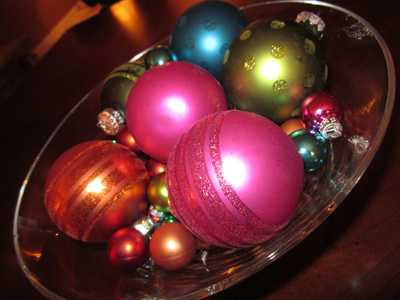 In the ornament centerpiece shown above, I filled the bowl with colorful beads and then placed large and small ornaments on top. They add so much color to your table and can be used year after year.
Here's one my friend Saundra made. She added fake snow crystals and ribbon to hers. It's hard to see it from this photo but it really sparkled as a centerpiece!
Check out this Christmas table centerpiece idea. I was recently at a party and this is what the hostess had on one of her food tables. Inside the decorative box was a piece of styrofoam, suckers and candy canes were stuck into the foam and then the box was filled with tissue paper and mini marshmallows. It was so cute!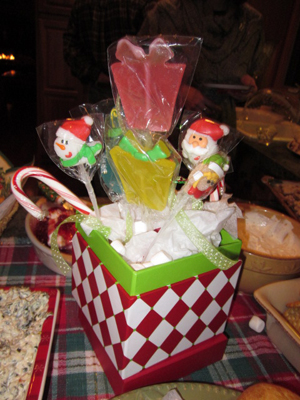 You could use this same concept for any theme party really. They would be great for a baby shower or kid's birthday party.
Other Christmas Pages You Might Like
Invitations
I use different kinds of invitations depending on how much time I have and what kind of party I am planning. You are sure to find at least one type of invitation here that will suit your needs.
Party Recipes
Ah...recipes. My favorite part of party planning. I've gathered some of my favorite party recipes for you that are sure to delight all of your guests. I am not called the Theme Party Queen for nothing!
Holiday Table Centerpieces
Create your own Holiday Table Centerpieces with simple craft items and things you already have around your home. Ideas for holiday decorations, theme centerpieces or budget wedding centerpieces.
Party Music
This is my husband's area of expertise. In my opinion, the party music sets the tone for the whole evening. Have you ever been to a party where the music really didn't fit the theme or the age of the crowd? It's really kind of a downer. Compare that to a party where the music is well thought out and never ending. The party is in full swing the whole night! Find some suggestions here on how to do it right.
Costumes & Attire
This section has ideas ranging from full blown party costumes, like dressing up in a Santa suit, to the more subtle things that you can add to your attire, like wearing a funny T-shirt or hat. Find lots of great ideas here.
Fun Party Games
This selection of Christmas party games includes options for all age groups. Some are perfect for kids holiday school parties while others work well for large adult parties at home and office.