Ciabatta Sandwiches
by Sandee
(IL)
These Ciabatta Sandwiches are made with Spinach and Asiago Cheese chicken sausage and are so flavorful your guests will love them.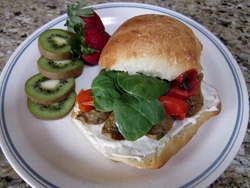 Have you seen all the varieties of chicken sausage currently available at places like Costco, Sams Club and Walmart? I have tried several varieties and all are outstanding.

Some of my favorites are Roasted Garlic with Gruyere and Sundried Tomato with Basil.

I started using them because I have two grown kids who do not eat red meat so I began investigating alternative recipes, and much to my surprise, found that flavored chicken sausage is tastier than most of the beef varieties I have tried.

In addition to sandwiches, I use them in spaghetti sauces, in lasagnes and even cut up and served with a dip for parties. Try them out. You won't be disappointed.

Ingredients




4 Ciabatta Rolls


4 Chicken Sausage Links (any variety)


1 Red Pepper


Baby Spinach


Mayonnaise


Preheat oven to 425 degrees. Slice sausage and red pepper and lay on sprayed cookie sheet. Bake 15 minutes or until lightly charred.
Slice rolls and spread generously with mayo. I use mayo as opposed to another spread because it is mild and doesn't compete with the sausage seasoning. Layer sausage, red pepper slices and a few spinach leaves on rolls. Serve with fresh fruit. Makes 4 Ciabatta Sandwiches.
Click here for more
easy recipes
.

Want To Stay In Touch With Theme Party Queen?
Here's how you do it:
Our goal is to create a community of like-minded people who like to share ideas and who are open to making new friendships. We would love for you to join us today.