Simple Vegetarian Recipes
Simple vegetarian recipes are hard to come by. I am a meat eater myself, but both of my grown children are not so I am always looking for recipes that I can make.
My husband and I were invited to a friend's house for dinner and the hosts served this goat cheese appetizer w/pistachios and cherries. It was absolutely beautiful to look at and the flavors combined to make a unbelievably tasty vegetarian appetizer.
Both my kids call themselves vegetarians but they eat cheese so I included this goat cheese recipe on my vegetarian page. If you do not eat cheese, obviously this recipe won't work for you.


Simple Vegetarian Recipe #1 - Goat Cheese & Cherry Appetizer
First, there are 3 main components to this easy vegetarian recipe; goat cheese, cherries and pistachios. My friends served them in one long dish that had 3 compartments and passed it around so we could each make our own appetizer. I thought that was a great way to get the guests involved and it was fun!
I served it the same way when I made it but my guests came up with an another good idea for this vegetarian dish. They suggested combining the cheese, cherries, orange peel and honey to make a cheese ball and then rolling it in finely chopped pistachios. That would work well too.
One French baguette
1-4 oz. package of goat cheese
1 teaspoon grated orange peel
1 cup pitted, chopped dark cherries (not dried cherries)
1/2 cup chopped pistachios
Warm honey
Slice the baguette and broil both sides for a minute or two. Cool.
NOTE: I tried to broil the baguette slices ahead of time and it did not work. They became soft by the time I served the appetizer and they need to be slightly crisp so do it right before serving.
Pit and roughly chop cherries. Shell and chop pistachios. My friend did this all by hand but when I make them, I am going to try frozen cherries and pistachios that are already shelled. That way, all I'll have to do is chop everything. Simple, simple!
We'll have to see how the consistency of the cherries turns out. Frozen or canned may be too mushy.
Mix orange peel into the goat cheese and form a mound on your serving dish. Add milk if it is too hard to mix. If you are not a goat cheese fan, cream cheese would work too.
Layer these simple vegetarian appetizers in this order: goat cheese with orange peel spread on baguette slice, cherries next, then pistachios, then drizzle with warm honey.
Oh my Lord, these are yummy! This was enough for 4 people to have 2 each.

Besides appetizers, I always seem to be challenged trying to come up with vegetarian breakfast recipes. One of our favorite vegetarian breakfast recipes is this easy hashbrown breakfast casserole.
I like it because I can quickly whip up a meat-eater's version and one without meat and easily serve everybody a simple, satisfying meal. Here are some more of my favorites:
Vegetarian Appetizer Recipes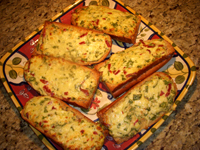 Cheesy Garlic Bread w/Chipotle
Cheesy Olive Poppers
Tomato Basil Tart
Sweet Potato Fries w/Fire Sauce
Goat Cheese and Pesto
with Red Peppers
Garlic Herb Pesto Dip
Warm Vidalia Onion Dip
Green Chili Dip
Cheddar Chipotle Dip
Sweet Corn Dip
Pineapple Pecan Spread
Apple Caramel Dip

Vegetarian Soup Recipes and Simple Entrees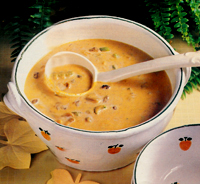 Pumpkin Wild Rice Soup
Spicy Southwest Corn Chowder
Potato Leek Soup
Roasted Red Pepper Soup
Pam's Potato Cream Soup
Four Cheese Spinach Lasagne
Zucchini Twice Baked Potatoes
Zucchini Brunch Pie
Tomato Basil Tart
Benedictine (Cucumber Sandwiches)
Wild Mushroom Ravioli with Pine Nuts
Zesty Tomato Pesto Pasta
Harvest Casserole
Ultimate Mac and Cheese