Easy Martini Recipes
Easy martini recipes have evolved quite a bit over the years. In the late 1800's when they supposedly were invented, if someone were to order a martini, there was really only one easy recipe.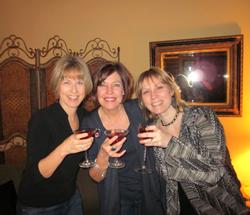 The bartender mixed party cocktails consisting of gin, Vermouth and bitters. Garnishes were usually cocktail onions and a twist of lemon.
***z-250-sitewide-default.shtml***
Then in the 1900's the recipe began to change and certain ingredients were swapped with others. Gin was sometimes replaced with vodka, sweet and dry Vermouths were used interchangeably and olives came on the scene.
Somewhere in the mid 1990's recipes for martinis changed dramatically. Many say there is one drink responible for the change and that is the Cosmopolitan. Yes there is strong liquor in the recipe (vodka) like the original martinis, but the addition of fruit juice (cranberry) completely changed the game.
Garnishes even changed from onions and olives to things like sugar rimmed glasses, maraschino cherries and rock candy stirrers.
Now, when you think of martinis, literally hundreds of ideas come to mind and almost all of them include some type of sweetener like chocolate or fruit juice.
A year ago, I created an easy martinis menu for my own personal use and now I am making it available to Theme Party Queen visitors. Click here to learn more about our free Cocktail Ideas Menu. It has 12 martini recipes and 8 cocktails. Mine party cocktails menu is laminated and sits in an easel on my bar.
If a restaurant has a party cocktails menu with martinis on it, undoubtedly you will find fruity concoctions like the ones listed below. Almost all of them are considered easy martini recipes because they typically consist of 4 or 5 ingredients max and they are simply shakened and poured. Super easy to make.
Four Easy Martini Recipes
When selecting the four easy martini recipes below, we decided to include those recipes that are unusual in flavor. A creamsicle martini? When have you ever heard of one of those? How about a pineapple martini? Sounds like a beach drink to me.
These days, you can still find the original martini lover, but more than likely a new fangled martini, like the ones below, will be more of a hit with your guests so plan to offer at least one of these easy recipes.
Check out our specially selected martini glassware while you are here. They are handcrafted by artisans all over the world and sold by one of my partner sites, Novica.com. There stuff is just beautiful, truly one-of-a-kind glassware made with love.


Creamsicle Martini Recipe
I haven't had a creamsicle in years! I remember getting those orange/cream bars from The Dairy Queen and loved them. This Creamsicle Martini Recipe is a pretty good re-creation of the flavor that I loved as a child on a hot summer day.
Ingredients
2 oz. vodka
1 oz. Grand Marnier or Triple Sec
1 oz. orange juice
1 oz. heavy cream
Put all martini ingredients in a shaker with ice, shake vigorously until well chilled and pour into your favorite martini glass. One of the easiest party cocktails for people who like sweet drinks.
---
Pineapple Martini Recipe
Ingredients
This pineapple martini recipe reminds me of sitting on a beach or by a pool sipping party cocktails. I am a pina colada lover but this one is a close second when I'm out in the sunshine. It is also really good with a splash of 7up to make it bubbly.
1 oz. Pineapple rum like Captain Morgan's
1 oz. vodka
2 oz. pineapple juice
Fresh pineapple wedges
Same drill. Put all martini ingredients in a shaker with ice, shake vigorously until well chilled and pour into your favorite martini glass. This is so easy and one of my favorites.
If you like cocktails with pineapple juice, you may also like this recipe for a Bleu Martini found on our Best Martini Recipes page.
---
Strawberry Martini Recipe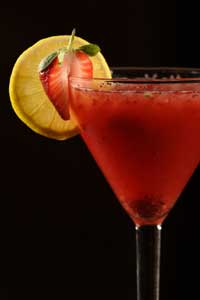 Finding a strawberry martini recipe that is palatable is hard to do. The problem is twofold. First, strawberries are not sweet by nature so the recipe has to compensate, and second, most people do not like the texture of the pulp and the seeds.
This easy strawberry martini recipe addresses both of these issues and creates a cocktail that is pleasing to the palate and the eyes.
Strawberry Mash Ingredients
1 teaspoon sugar
2 strawberries, hulled and sliced
1-2 tablespoons water
First, prepare the strawberry mash. The ingredients above are enough for one cocktail. You could put them directly into a martini shaker and mash them with a wooden spoon but that technique is hit or miss resulting in undesirable chunks of pulp and seeds.
A better way to prepare the strawberry mash is to take the time before your guests arrive to make it in either a blender or a food processor. The extra time taken makes all the difference in the world. Just add the ingredients and blend. Add water as necessary to achieve a smooth, slightly thick consistency.
Strawberry Martini Ingredients
3 tsp strawberry mash (recipe above)
1 tsp Hershey's strawberry syrup
2 oz. vodka
Cream (optional)
Sugar and 1 strawberry, slit up the middle for garnish
To prepare the martini glasses, dip the rims in water and then sugar. Set aside.
For each strawberry martini, add the mash, syrup and vodka to a martini shaker filled with ice. If the mixture is too thick, add a little water.
Shake vigorously until well chilled and pour into glasses. To make a Strawberry Cream Martini, add a splash of cream on top. Garnish with a strawberry.
---
Mexican Martini Recipe
The Mexican Martini is simply a top shelf margarita in a martini glass and calls for fresh fruit juice instead of a bottled sour mix. Some of those mixes really burn going down because they are so acidic. You will not find that with this easy martini recipe if you make your own sour mix before mixing your martinis. This is optional, of course, but we highly recommend it to achieve a smoother cocktail.
Homemade Sour Mix Ingredients - Optional
1 cup sugar
1 cup water
1 cup fresh lime juice
1 cup fresh lemon juice
First simmer the sugar and water until sugar is completely dissolved. Add the juices and stir. Keep refrigerated until ready to use.
This may seem like a lot of work squeezing the fruit and all, but the end product makes the smoothest margaritas you will ever taste. No after burn at all. Well worth the extra time.
Mexican Martini Recipe Ingredients
Ice cubes
1 jigger Silver Tequila
1 jigger Cointreau
4 jiggers Sour Mix (recipe above)
1/2 jigger Grand Marnier or Triple Sec
Lime wedges for garnish
Put ice cubes in a margarita glass and pour in tequila, Cointreau and sour mix. Mix well.
Gently pour in the Grand Marnier and garnish with a lime. Makes 1 Margarita Martini. Optional: Rim the glass with salt prior to adding the ingredients.
Here is a great recipe for a Golden Margarita, first tried several years ago in Vero Beach, Florida with my hubby.

More Easy Martini Recipes
In addition to the easy martini recipes above, here are a few more of our favorites:
Best Martini Recipes
Pear Vodka Martini
Green Apple Martini
Pomegranate Blueberry Martini
Chocolate Covered Cherry Martini
Cosmopolitan Martini
Pomegranate Cosmo
Pineapple Bleu
Pumpkintini
Ghostini
More Martinis
Vanilla Peppermint Pattitini