Idea For Leftover Candy Canes

(Illinois)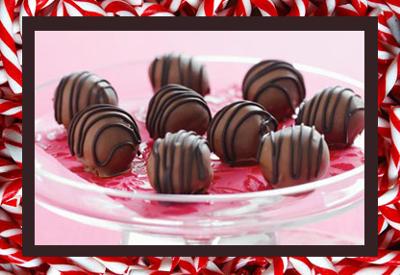 Oreo Peppermint Truffles
I always seem to have leftover candy canes after the holidays and never know what to do with them. Check out this recipe from my Bunco friend Rosemarie:

Oreo Peppermint Truffles

Ingredients
1 Package Of Oreo Cookies (plain)
4 Candy Canes or 12 Peppermint Candies
1 8 Oz. Package Of Cream Cheese
1 Package Of Chocolate Almond Bark
Sprinkles For Decoration

Directions
Grind Oreo cookies and candy canes in the food processor. Divide cream cheese into thirds and add to food processor in thirds to insure that all the ingredients are mixed well. Shape mixture into balls. Lay Oreo balls on wax papper on a cookie sheet and freeze for an hour. Remove from freezer. Melt almond bark and dip the balls in in the melted almond bark using two forks. Lay on wax papper to harden. Sprinkle with
chocolate or rainbow sprinkles.

For a change, use different kinds of chocolate and drizzle some on top.
Want To Stay In Touch With Theme Party Queen?
Here's how you do it:
Our goal is to create a community of like-minded people who like to share ideas and who are open to making new friendships. We would love for you to join us today.