Lemon Cream Fondue
This lemon cream fondue is perfect year round. During colder months, serve it with pound cake and during warmer months it is perfect served with fresh fruit.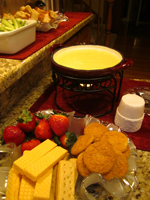 1 cup sugar
1/2 cup cornstarch
1/8 teaspoon salt
4 cups water
1/2 (1 stick) cup butter or margarine
1/2 cup lemon juice
2 tablespoons grated lemon peel
Dippers including angel food cake, strawberries, shortbread, meringues
In a heavy saucepan, combine sugar, cornstarch and salt. Stir in water until smooth. Bring to a boil over medium heat; cook and stir for 1-2 minutes or until thickened. Remove from the heat. Stir in butter, lemon juice and peel until butter is melted. It will seem runnier than you would want but it thickens a bit upon standing.
Pour mixture into a fondue pot and set to low. Serve warm with dippers. I like to provide little paper cups in case my guests want to make a plate and leave the table.
When I served Lemon Cream Fondue recently (as seen above), I used a tea light fondue dish from Rick Bayless of Frontera Grill fame and used strawberries, vanilla sugar wafers, the best Scottish Shortbread and crispy ginger snaps as fondue dippers.
Click here for more easy fondue party tips including how to fondue, top rated pots and accessories and more recipes.