Mini Greenie Enchiladas
by HELEN BUSTAMANTE
(ONTARIO CALIFORNIA)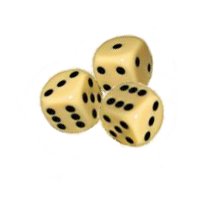 Play Bunco!
Visitors are always looking for recipes for Bunco food. This one from Helen could be made in a 9x13 so it is perfect for large groups.

MINI CORN TORTILLAS
CHICKEN (CANNED)
CHEESE
GREEN ONION
OIL
TOOTHPICKS
GREEN CHILI

GRATE CHEESE AND DICE ONION. PUT TORTILLAS IN A WET DISHTOWEL IN MICROWAVE AND WARM.
HEAT OIL (HOT) DIP TORTILLAS TWO AT A TIME
IN HOT OIL ONE SIDE ONLY.
WHEN YOU ROLL THE TORTILLAS, INGREDIENTS SHOULD BE INSIDE THE OILED SIDE OF THE TORTILLA.

ROLL ENCHILADAS POUR GREEN CHILE OVER THEM SPRINKLE WITH ADDITIONAL CHEESE AND PUT IN OVEN TO WARM.I PUT IT ON LOW AND LEAVE IN FOR ABOUT 30 MINUTES SO INSIDE CAN WARM UP AND CHEESE WILL MELT

THIS BUNCO FOOD RECIPE IS EVEN BETTER WHEN YOU COOK YOUR OWN CHICKEN AND MAKE YOUR OWN SAUCE BUT FOR QUICKIES THIS RECIPE IS GREAT.

TPQ Comment: Helen thank you for contributing this Bunco food recipe. Sounds yummy.

Need more info about Bunco? Click here to learn How To Play Bunco and host a party at home.
Want To Stay In Touch With Theme Party Queen?
Here's how you do it:
Our goal is to create a community of like-minded people who like to share ideas and who are open to making new friendships. We would love for you to join us today.