Mulled Pomegranate Sipper
Courtesy: Taste of Home

When I entertain, I like to offer at least one warm drink recipe, like this Mulled Pomegranate Sipper found on the Taste of Home website.
The use of cranberry and pomegranate juices make it less sweet than alot of the warm punch recipes you see in cookbooks. This combination also makes a great mixer for cocktails made with Brandy and rum in particular.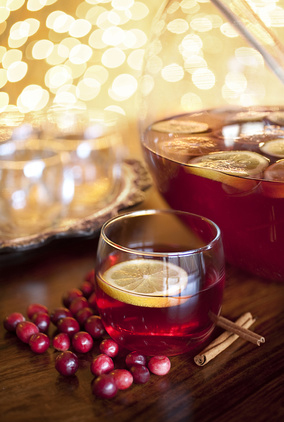 Ingredients
1 bottle (64 ounces) cranberry-apple juice
2 cups unsweetened apple juice
1 cup pomegranate juice
2/3 cup honey
1/2 cup orange juice
3 cinnamon sticks (3 inches)
10 whole cloves
2 tablespoons grated orange peel
In a 5-qt. slow cooker, combine the first five ingredients.
Place the cinnamon sticks, cloves and orange peel on a double thickness of cheesecloth; bring up corners of cloth and tie with string to form a bag. If you don't want to go the cheesecloth route, just strain out before serving.
Add to slow cooker. Cover and cook on low for 1-2 hours. Discard spice bag. Yield: 16 servings (about 3 quarts).
You can either serve it warm right out of the Crock Pot, or you can chill it and serve it in a punch bowl, with or without alcohol.
Find more warm drink recipes here.