Warm Holiday Drinks
During the colder months, I love to serve a variety of warm holiday drinks, some with alcohol; some without. I usually set up an special area in my kitchen when I entertain so guests can serve themselves.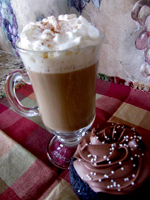 In addition to my coffee pot, I have a couple of Bunn Airpots that I use. If you are going to invest in an Airpot, make sure you buy a name brand, like Bunn.
I have been very disappointed with off-brand airpots in the past. The pump mechanism on one of them broke after a couple of uses and the glass insert on another one shattered when I filled it with ice. I have not had a single problem with my Bunn Airpots.
I put the regular coffee in my coffee pot and use the airpots for decaf coffee and hot water. Then I set out some great coffee mugs and a bunch of mix-ins including:
Flavored syrups, like Raspberry and Vanilla
Hot Chocolate, Chai Tea and Spiced Cider dry mixes
Spray Whipped Cream
Half and Half
Sugar
Cinnamon
Cocoa
Kahlua
Baileys
Peppermint Schnapps
In addition to offering a coffee bar, find some international coffee recipes here that can be served with or without alcohol. Try the recipe for Viennese coffee with a shot of Frangelico or the Mexican coffee with a vanilla vodka. Don't forget the whipped cream!
Your guests will love this recipe for non-alcoholic Warm Christmas Punch at any time of the year.
Another great non-alcoholic choice is homemade spiced cider. Simmering in a slow cooker makes your home smell heavenly throughout the day and into the evening.
Personally, my favorites are Hot Chocolate with a shot of Peppermint Schnapps and Chai Tea topped with whipped cream and sprinkled with cinnamon. Yum!
You might also like our page on Fun Party Drinks.