Olive Appetizer
by Sandee
(IL)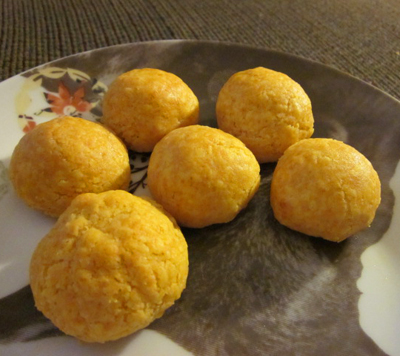 Cheddar Olive Poppers
Tried this olive appetizer recipe last weekend and knew right away that this would make great Bunco food! We call this recipe "Cheese Balls" but I think it needs a better name so people don't confuse it with the other kind of cheese balls, the kind that usually has cream cheese, cheddar, onion or other ingredients then rolled in nuts and serve with crackers.

These cheese balls are NOT that. They are perfect little cheese bites with a surprise in the middle!

1 stick butter, softened
1 cup flour
2 cups finely shredded cheese
1 tsp paprika
24 green olives with pimentos

Preheat oven to 400 degrees.

Mix together butter, flour, cheese and paprika until it forms a dough. You can substitute seasoned salt for the paprika but I'd use 1/4 teaspoon instead.

Sharp cheddar really complements the olives but you can use any cheese that is finely shredded.

Roll dough into balls about 1-1/2 inch in diameter. Press an olive into each and wrap dough around so olive is completely concealed in the middle.

Place olive balls on cookie sheet and bake for 15 minutes or until lightly browned. Good warm or cold.

This olive appetizer is easy to make and easy to eat. The cheese does not make the appetizer messy, just gives it a nice smokey flavor. Enjoy!

Got a name idea? This recipe could really use a new name. Leave a comment with your suggestion.



Want To Stay In Touch With Theme Party Queen?
Here's how you do it:
Our goal is to create a community of like-minded people who like to share ideas and who are open to making new friendships. We would love for you to join us today.