Oreo Truffles
Courtesy: Kraft Foods

Oh how I love these Oreo Truffles. It's hard to believe they only have 3 ingredients! My friend Carol brings these to parties alot and they are usually the first thing to go.
Ingredients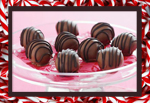 1 pkg. (1 lb. 2 oz.) OREO Cookies, finely crushed, divided
1 pkg. (8 oz.) PHILADELPHIA Cream Cheese, softened
2 pkg. (8 squares each) BAKER'S Semi-Sweet Chocolate, melted (Option: White Chocolate)
Mix 3 cups of the cookie crumbs and the cream cheese until well blended. Shape into 42 (1-inch) balls.
Dip balls in melted chocolate; place on waxed paper-covered baking sheet. (Any leftover melted chocolate can be stored in tightly covered container at room temperature and saved for another use.) Sprinkle with remaining cookie crumbs.
Refrigerate 1 hour or until firm. Store any leftover truffles in tightly covered container in refrigerator.
How to Easily Dip Truffles
To easily coat truffles with the melted chocolate, add truffles, in batches, to bowl of melted chocolate. Then use two forks to roll truffles in chocolate until evenly coated. Remove the truffles with forks and allow excess chocolate to drip back into bowl before placing truffles on prepared baking sheet.
Decorating Options
Rather than decorating truffles with cookie crumbs, melt some white chocolate chips in the microwave. Transfer melted chocolate to a plastic storage bag and work it down into one corner. Snip the corner with scissors and draw squiggly lines on truffles.
You could also roll them in nuts, sprinkles, coconut or another flavor of crushed cookies like Lorna Doone shortbread.
Flavor Option
Peppermint Truffles: Add 2 finely crushed candy canes or 6 peppermint disks to cookie crumb mixture and 1/2 teaspoon peppermint extract to melted chocolate.
Mocha Truffles: Add 1 teaspoon of instant espresso powder to cookie crumb mixture and 1 tablespoon of coffee liqueur to melted chocolate.
How To Make Oreo Truffles
This video found on YouTube shows you how to do it. This gal, Bekah Williams, uses Almond Bark instead of chocolate to coat them.
Find more easy cookie recipes here.