Pear Vodka Martini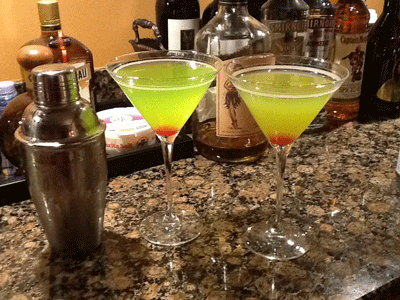 I am always looking for interesting new cocktails to serve my guests. My friend Madonna told me about this Pear Vodka Martini which is so flavorful. It's a sipper for sure, fresh and crispy!

Pear Vodka Martini Ingredients
1 shot of Pear Vodka (Smirnoff or Absolute)
1/2 shot of Melon Liquor like Midori
1/2 shot of Peach Schnapps
Pineapple juice to taste
Mix all ingredients together in a shaker with ice. Pour into your favorite cocktail glass. This drink not only tastes good but it's a beauty to look at.
Click here for more fun party drinks.
Another Favorite Green Cocktail - Green Apple Martini
This green apple martini recipe is a favorite among my girlfriends. Sometimes martinis can be way too strong for me, but this recipe can be easily adjusted by adding less vodka and more Apple Pucker.
The funny thing is, guys love this martini recipe too. You wouldn't think so because of the fruity flavor, but I know several guys who like an apple martini every now and then as much as the gals.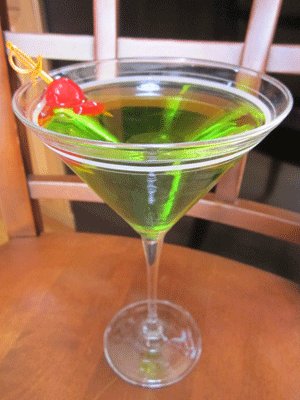 Green Apple Martini Ingredients
1 ounce vodka
2 ounces Apple Pucker liquor
1 green apple slice
1 maraschino cherry
Fill a cocktail shaker with ice cubes. Pour in vodka and Apple Pucker. Strain into a chilled martini glass and garnish with apple slice and cherry.
Check out my specially selected martini glassware, handcrafted by artisans all over the world and sold by one of my partner sites, Novica.com. There stuff is just beautiful, truly one-of-a-kind glassware.
Find more of our favorite martini recipes here.