Fun Party Drinks
There are all kinds of fun party drinks you can serve at theme parties. I usually offer some choices that closely match my theme, such as, Ghostinis for Halloween parties or Green Apple Martinis for St. Patricks Day, but in addition, I also like to be prepared with standard party drink choices like the ones below.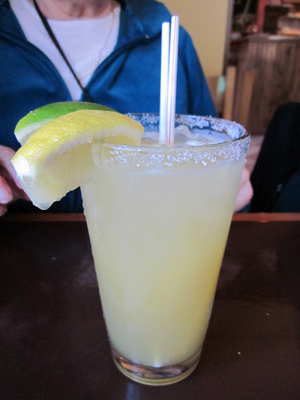 For most theme events, it is important to have both alcohol and non-alcohol party drinks available. For alcohol varieties, I like to offer a couple of special party drinks.
Mix up some Pina Coladas, Margaritas or whatever you like and put them in a Frozen Drink Machine if you have one so your guests can get their own refills. I love the Barcardi frozen mixers that come in a can like orange juice. They are easy to use and taste great.
I also like to buy buckets of drink mixes at places like Bed, Bath and Beyond and Linens and Things. I have bought the Margarita, Rum Runner and Cosmo buckets and they were all very popular (the Mojito, not so much). These are really convenient because all you have to do is add the liquor, stick the bucket in the freezer overnight then serve using an ice cream scoop.
For the weight conscious guests at your party, check out these Low Calorie Cocktail Mixers.
Fun Party Drinks - Punch
A Fruited Brandy Punch is always is good choice too. Serve it in a punch bowl or check out the newest craze.
All sorts of fun party drinks are being served in punch fountains these days. You have probably seen them at weddings and catered gatherings, but they are becoming more common at home parties because you can find reasonably priced models They work great for punches, just hold the fruit.
Find a variety of punch bowls and punch fountains here.
Vodka Martini Cocktails
Martinis are always popular. Nowadays they come in just about every color and flavor. Ladies especially love these fun party drinks; the fruitier the better. How about a Honeydew Martini or a Pomegranate Blueberry Martini?
I created a cocktail menu to make it easy for my guests to choose a martini and for me to quickly see the ingredients and mix it. Mine is laminated and is displayed on an easel on my home bar.
I made it into a pdf and if you want one for yourself, just sign up to receive the free download link:
Cocktail Ideas Menu
Wine
I'm not a big wine connoisseur so I tend to stick with the basics. Have a couple of good red wines to choose from on your home bar, like Merlot and Cabernet Sauvignon. Some people like their red wine chilled while others prefer it at room temperature so I try to accommodate both.
For white wines, I usually have a dry variety, like Chardonnay, and a sweeter choice, like a Riesling or a Piesporter. All white wine is best served chilled.
I have two drink tubs; one I use for the wine and the other for mixers and soft drinks. Many people have a wine cooler, like a mini fridge, close to their home bar which is especially helpful if you are short on bar space. There are really good ones on the market; I like the dual zone wine coolers so I can keep red and wine wine at the right temperature.
Liquor
I set out the bottles of alcohol on my home bar along the back wall in the middle section of the bar so that the choices are easy to see. I always have the basics. Whiskey, Gin, Tequila, Rum and Vodka. Depending on the kind of party I am having, I might also set out Kahlua, Baileys, Cointreau, Jagermeister, Grand Marnier and Brandy.
Make sure that the liquor choices are easily visible especially if you want your guests to mix their own fun party drinks. You know your way around your own bar, but your guests do not so make it easy on them.
Beer
At our parties, beer is usually the most popular drink so we have to be prepared to keep a lot of it cold and make it easily accessible.
Over the years, we've had a few keg parties, and have borrowed our friend''s kegerator. He constructed his own a few years back and it really makes the rounds among our friends because it's easy to use and keeps the beer really cold.
Eventually we hope that he will start selling his kegerators on this site but until then, I recommend one of these full size kegerators. Many of them are value-priced and offer features usually reserved for commercial kegerators but are perfect for home useage.
Most of our parties require a cooling system somewhere in between the kegerator and the beverage tubs. Space is limited on top of the bar so to keep the beer cold, we usually use a combination of our bar fridge, drink tubs and the old standby...a plain old Coleman cooler. Throw in the beer and ice 'em down.
What kind of beer to serve?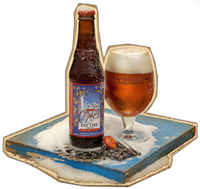 My husband and son like to have a variety of beer so they usually pick up a few cases of domestic (regular and lite) and supplement with a few cases of imported beer.
Occasionally, we will serve one of my son's favorite beers from New Belgium Brewery located in Colorado called "Fat Tire." We've toured the brewery in Ft. Collins and sampled many of their beers.
Here's how the company describes this beer: "Like the ageless delight of pedaling a bicycle, Fat Tire Amber Ale's appeal is in its feat of balance: Toasty malt flavors (sorta like biscuits just pulled from the oven) coasting in equilibrium with crisp hoppiness. Delicious stability - in the world of sometimes-precarious beer flavors."
A lot of words, I know, but you get the point. Good beer.
Bottom line: Have a variety of beer available and keep it icey cold! Pretty simple, right?
Mixers & Soft Drinks
I usually include these mixers at our parties:
Lemon-Lime soda
Cola
Tonic
Soda Water
Bottled Water
Gingerale
A variety of fruit juices
Non-carbonated like lemonade or tea
I buy mostly non-diet soda but always have a few diet choices available. This list takes care of the mixers for fun party drinks with alcohol as well as the guests who prefer non-alcoholic beverages. Of course you always want to offer water, either bottled or from a pitcher.
It helps to have the mixer and soft drink choices visible so your guests can easily help themselves.
You might also like our page on Warm Holiday Drinks.