Perfect Bunco Appetizer - Vegetable Pizza
by Clara
(Kentucky)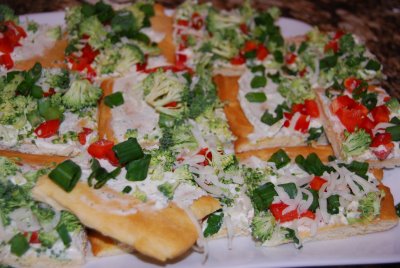 Great Appetizer For a Crowd!


2 pkgs. Crescent Rolls


1 to 2 (8oz) Cream cheese – soften – depending on how much "sauce" you would like


1 pkg. Dry Ranch Dressing Mix


Any vegetable such as:
Diced or shredded radishes, broccoli, cauliflower, green onions, green peppers or any other vegetable you like and have


Once I have diced or shredded the veggies I usually toss them together in a bowl, this way they get mixed together nicely.
Shredded Cheese – Again I usually use Kraft finely shredded sharp cheddar.
Heat oven according to crescent roll package directions. Prepare crescent rolls by unrolling them and placing on a cookie sheet. I usually press them down. I also prebake them for about 5 to 7 minutes depending on your oven. Just don't bake them done yet!
Cream together the cream cheese and dry ranch dressing. I sometimes add a tiny bit of milk to make sure it will be easy to spread.
Remove the crescent rolls from oven.
Spread the cream cheese/dry ranch dressing mixture on crescent rolls like you would on a regular pizza.
Now top with your diced veggies. Top with shredded cheese.
Return to oven and bake until cheese is melted nicely, about an additional 5 to 7 minutes.
This is the reason you don't finish baking the crescent rolls at the beginning. I did it once and believe me, they were over baked. YUK!
Cut into squares the size of your choice.
I have served this at many parties and gatherings of all kinds and people just love it.
Our goal is to create a community of like-minded people who like to share ideas and who are open to making new friendships. We would love for you to join us today.