Port Salut Goes Well with 2 Buck Chuck

(Illinois)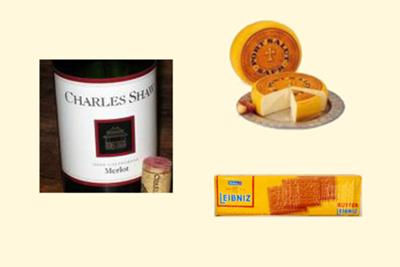 Port Salut with 2 Buck Chuck
I have a French Canadian friend who turned me on to Port Salut cheese. It's a soft, buttery cheese that can be spread on crackers. It's on the milder side and goes well with lighter red wines.

Try Port Salut with a nice Merlot, like Charles Shaw brand. It is lovingly known as "Two Buck Chuck" and offers great taste at an incredibly cheap price ($1.99 - $3.49 per bottle, depending on the region).

Not sure how it started but I began using tea biscuits, like the ones above, for cheese. They are mildly sweet like a cookie and go perfectly well with cheese, especially Pepper Jack and Port Salut.

Just a few of my favorite things...

Join in and write your own page! It's easy to do. How? Simply click here to return to Inexpensive Cheese Wine.
Want To Stay In Touch With Theme Party Queen?
Here's how you do it:
Our goal is to create a community of like-minded people who like to share ideas and who are open to making new friendships. We would love for you to join us today.