Sangria Punch
Sangria Punch is perfect for theme parties because you can easily double or triple the recipe depending on how many guests you have. I have a gigantic terra cotta pot that I use to make my sangria.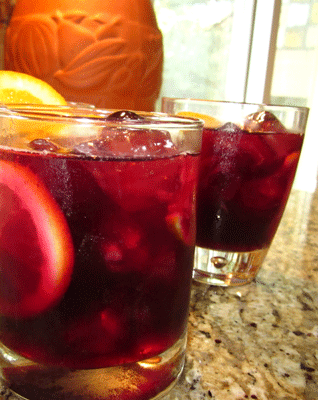 You can see it in this photo. It has a spigot on the bottom which I hang over my sink and fill punch glasses from there. That way I don't have to worry about drips; they go right into the sink.

Sangria Punch Ingredients
1 lemon
1 lime
1 orange
1-1/2 cups rum (spiced rum works well too)
1/2 cup white sugar
1 (750 milliliter) bottle dry red wine
1 cup orange juice
Chill the fruit, rum, orange juice and wine. If desired, make ice cubes out of the orange juice. This is a good way to keep drinks icey cold without diluting them.
Slice the lemon, lime and orange into thin rounds and place in a large glass pitcher. Pour in the rum and sugar. Chill in refrigerator for 2 hours to develop the flavors.
When ready to serve, crush the fruit lightly with a wooden spoon and stir in the wine and orange juice (cubes if you made them). Adjust sweetness to taste.
Click here for some more easy punch recipes.
Want to host a Sangria Soiree? Visit our women parties page and learn how I did it.