Easy Punch Recipes
When I was in college at Michigan State University, we used to make some easy punch recipes, one of which we called "Garbage Can Punch." Pour a bunch of cheap liquor into a garbage can and mix it with Hi-C or some other kind of sugar-laden fruit mixture and you've got yourself a PAR-TAY!
Every college student knows about these kinds of punch recipes. At the time, we couldn't afford real fruit juice so we always bought the cheapest, fruity mixture we could find in gallon containers and poured them into a garbage can with the alcohol (don't worry, the garbage can was clean!), hence the name "Garbage Can Punch."
For some reason, the green Hi-C was a favorite, especially at Halloween time. Then, we'd change the name to "Swamp Juice" and if we had extra money, we would add dry ice so it smoked! Pretty cool, huh?
P.S. Get some more ideas for easy Halloween recipes here.
Well you will be happy to know that not only did I graduate from college, but I eventually graduated to serving easy punch recipes that are more sophisticated and suited to adult palates. I share some of my favorites here which are perfect for any kind of get-together or wedding celebration you are hosting.


Easy Punch Recipes Number One - Fruity Sangria Punch
In my senior year at Michigan State, my tastes were becoming more sophisticated so I asked my boss at the time for his recipe for Fruity Sangria Punch. I still have the recipe he wrote down on a piece of scrap paper.
Even though my tastes were changing, money was obviously still an issue because he scribbled a dollar amount next to each ingredient. I must have asked him how much it would cost me to make this red punch recipe because there are two kinds of alcohol in it.
Would I ever do that now? No way! I could just hear it, "Can I have your recipe for XXXX and oh by the way, can you tell me what each ingredient costs? Too funny! Anyway, here is his easy Fruity Sangria Red Punch recipe: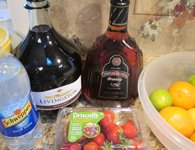 1 gallon Burgundy wine (any brand is fine. He used Taylor brand; I used Livingston).
5 oranges sliced
2 limes sliced
1/3 lemon sliced
1/2 quart strawberries, hulled and sliced
2 cups sugar
1 pint (2 cups) Brandy (I used Christian Brothers)
1-32 oz. club soda
Additional fruit for garnish (optional)
In a large container, mix all ingredients except soda water and let sit in refrigerator for up to 3 days. I have a huge terra cotta crock that my mother in law gave me that I use.
When ready to serve, muddle the fruit slightly with the end of a wooden spoon if you have one. Fill glasses with ice and shove fruit slices between sides of glass and ice. Pour in Sangria and top with club soda.
You see from the image how beautiful this Fruity Sangria Punch looks in a glass pitcher. Imagine what it would look like in a punch bowl or another clear beverage dispenser. Absolutely beautiful to look at and tasty too!
Like brandy? Then you might also enjoy this easy recipe for Fruited Brandy Punch. It is one of our most popular recipes.
Want to host a Sangria Soiree with your girlfriends? Visit our women parties page and learn how I did it.
---
7-Up Red Punch Recipe
1-32 oz. bottle apple juice
1/2-32 oz. bottle cranberry juice
2-32 oz. bottles 7-up
2 trays 7-up ice cubes
Chill fruit juices and 7-up. Prepare ice cubes by pouring 7-up into trays. Freeze.
At serving time, combine juices in punch bowl and slowly add 7-up to retain fizz. Add ice cubes. Makes 32 cups.
---
Bubbly Holiday Punch Recipes
This is one of the easiest holiday punch recipes I have found. It works well for showers and bachelorette parties and is perfect for Hawaiian and outdoor parties too.
1-10 oz. pkg. frozen strawberries, thawed
2 limes, thinly sliced
1-6 oz. can frozen daiquiri mix like Bacardi
2 cups light rum
3 bottles of champagne (pink if you can find it)
First, make the ice ring.
Pour water into a ring mold to depth of 1 inch and freeze solid. Arrange fruit around mold then pour just enough water on top to anchor fruit to ice that is already in the mold.
Freeze solid again. This step ensures that the fruit stays in the middle of the mold as opposed to sinking to the bottom.
Now pour enough water over the frozen fruit to fill the mold and freeze solid again. When you are ready to serve the punch, dip the bottom of the mold in hot water just to loosen it.
At serving time, combine daiquiri mix and rum in a punch bowl, add the ice ring and then slowly pour in the champagne. Makes 20 servings.

More Easy Punch Recipes