Snackadium
by Snackadium
(Berwyn, IL)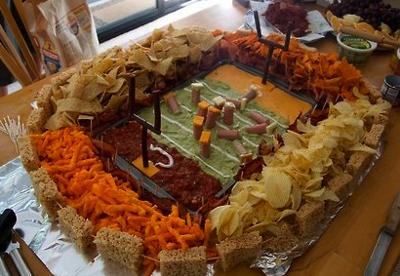 Football Appetizers Shaped Like A Stadium
Great idea for football appetizers snacks.

It's really not so much a recipe, as it is a concept. Just a stadium built of snacks. http://www.snackadium.com.

Rice krispie treats forms the outer edge while a 9x13 pan filled with dips forms the football field. Use jerky and sausage for goal posts and players and sour cream for the yard lines.

TPQ comment: Very creative, perfect for tailgating and football parties at home. Thanks for contributing.
Want To Stay In Touch With Theme Party Queen?
Here's how you do it:
Our goal is to create a community of like-minded people who like to share ideas and who are open to making new friendships. We would love for you to join us today.