Sparkling Dessert Cocktail
by Norma Serrano
(Los Angeles, CA)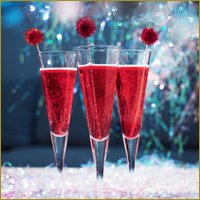 Sparkling Dessert Cocktail
This Sparkling Dessert Cocktail is specially created by WineShop At Home with our
Petit Cadeau Semi-Seco Sparkling Wine.

Ingredients:
2 parts Petit Cadeau Semi-Seco Sparkling Wine
1 part Pomegranate Juice

Directions:
Chill all ingredients. Pour a flute or cocktail glass 2/3 full with Sparkling Wine. Add 1.5 oz. pomegranate juice. Swirl gently to blend.
Garnish with pomegranate seeds or sparkly swizzle sticks and enjoy.
Join in and write your own page! It's easy to do. How? Simply click here to return to Popular Drinks.
Want To Stay In Touch With Theme Party Queen?
Here's how you do it:
Our goal is to create a community of like-minded people who like to share ideas and who are open to making new friendships. We would love for you to join us today.