Spiced Pecans

Several years ago I wanted to make something special for my Dad and I knew that he loved spiced nuts, especially the ones that his cousin made for him around Christmas time.
I asked her to send me the recipe, made a huge batch of them and sent a big container to my Dad in Florida. Well ever since then, this spiced pecans recipe has become my go-to item on every cheese platter I make for parties and just to nibble on at home.
They are crisp, sweet and slightly salty and are absolutely perfect with red grapes and a mild cheese like Port Salut which you can see in the top right of the platter below. It's a soft cheese with a spreadable consistency and just enough sharpness to offset the sweetness of the grapes and pecans. PERFECT.
If you price these out in a store, you will soon realize that to make them yourself is the way to go. Why not when the recipe is this easy?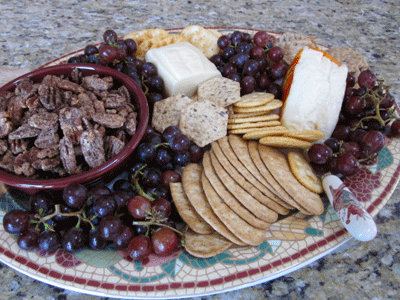 Ingredients
1 egg white
1 pound pecan halves (or any combo of nuts)
1/2 cup sugar
1/4 teaspoon salt
1/2 teaspoon cinnamon
1/2 teaspoon nutmeg
1/4 teaspoon cloves
Preheat oven to 225 degrees.
Using a fork beat the egg whites slightly. Pour the egg whites over the nuts and stir to coat making sure that all nuts are wet.
In another bowl, mix together the rest of the ingredients then pour over the nuts and toss well.
Bake nuts on a sprayed baking sheet for 40 minutes, stirring every 15 minutes. Cool and then store in a tightly covered container. I keep mine in the fridge and they stay crispy for weeks!
Download a Wine Tasting Ebook which includes printable cheese picks for your platters and wine tasting scorecards.
Spiced Pecans is also an excellent choice for a Kentucky Derby party.