Ultimate Keylime Pie
I travel to Florida a few times a year and every time I go, I have to have at least one piece of keylime pie. I have had so many that I know a great recipe when I see one.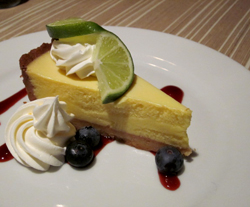 Try out this easy keylime recipe on your family and friends. The nuttiness of the almond crust in this ultimate keylime pie recipe is perfectly balanced with refreshing filling ingredients making it an exceptional choice for all seasons. Keylime pie is not just for summer theme parties.

Keylime Pie Crust Ingredients
1/2 c. butter
1 c. flour
1/2 c. chopped slivered almonds
1/4 c. sugar
Keylime Pie Filling Ingredients
3 eggs, separated
14 oz. can sweetened condensed milk
1 t. grated keylime peel
1/3 cup keylime juice (2 limes)
Whipping cream, whipped and sweetened
Seedless raspberry jam (optional)
Blueberries and lime slices for garnish (optional)
Keylimes are smaller and more tart than regular limes. You can use either in this keylime pie recipe.
In a large skillet, melt butter. Lightly spoon flour into measuring cup; level off. Combine flour and remaining crust ingredients in melted butter.
Cook, over medium-high heat, 3 to 4 minutes until mixture is medium golden and crumbly, stirring constantly. Reserve 1/4 cup crumb mixture for topping. Press remaining mixture, using back of fork, firmly into bottom and up sides of 9-inch pie pan. Cool completely.
In a large bowl, beat egg whites until stiff peaks form; set aside. In a small bowl, beat egg yolks. Gradually add condensed milk; mix well. Stir in lime peel. Add lime juice a little at a time, stirring after each addition.
Fold mixture into egg whites. Pour into crust and freeze about 3 hours or until set.
Just before serving, allow to soften a few minutes. To serve, microwave jam for a couple minutes until very loose and spread on plate. Lay pie slice on top, add whipped cream, blueberries and lime slices and sprinkle with reserved crumb mixture.
You will find more delicious dessert recipes here.