Zucchini Brunch Pie

I made this Zucchini Brunch Pie when visiting my mother in law recently. She said she loved it so much, she could eat this vegetarian pie every day. I agree completely.
Next time you need an easy quiche recipe try this one out on your family. Even kids like it. I usually serve it with fresh fruit and Strawberry Cheesecake Muffins or Fruit Scones.

Ingredients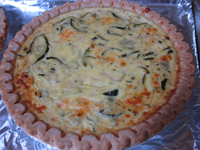 4 cups sliced zucchini
1 cup chopped onion
1/4 cup butter, cubed



2 eggs, lightly beaten
2 cups (8 ounces) shredded mozzarella cheese (or preference)
2 tablespoons dried parsley
1/2 teaspoon salt
1/2 teaspoon pepper
1/4 teaspoon garlic powder
1/4 teaspoon dried basil



1 tube (8 ounces) refrigerated crescent rolls
2 teaspoons prepared mustard
Preheat oven to 375 degrees.
In a skillet, saute zucchini and onion in butter until tender, about 10 minutes. Remove from the heat; cool slightly.
Stir in eggs, cheese, parsley, salt, pepper, garlic powder and basil.
Separate the crescent rolls and press into a greased 10-in. pie plate to form a crust. Brush crust with mustard. Spoon zucchini mixture into crust.
Note: When you are short on time, you can also use a prepared pie crust as shown in the image.
Bake for 10 minutes. Cover loosely with foil to prevent excess browning. Bake another 10 minutes or until a knife inserted near the center comes out clean. Let stand 5 minutes before cutting. Yield: 1 pie.
Click here for more easy Brunch Recipes.