Pomegranate Cosmo
The Pomegranate Cosmo is a favorite among ladies probably because it's a bit sweeter than an ordinary martini because of the juice and Triple Sec.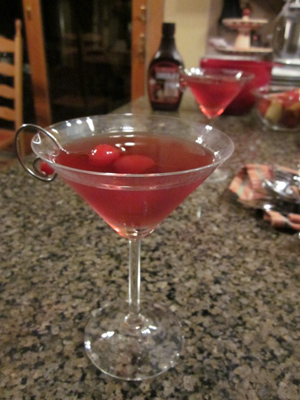 Ingredients
3/4 cup vodka
1/3 cup Triple Sec
1/3 cup Rose's sweetened lime juice
1/3 cup pomegranate juice
Lime slices for garnish
Fill a pitcher with ice. Mix all ingredients except limes slices until chilled and well blended. Strain vodka mixture into glasses and garnish with lime slices. Makes 4 cocktails.
Optional: Dip rims of martini glasses in water then sugar before filling glasses.
Find more recipes perfect for a ladies night martini party here.
How To Make a Cosmo
This video, courtesy Shaker BarSchool, shows how to make a regular cosmo. Until I saw this, I never would have used orange for garnish on a cosmo. Interesting idea considering he uses citrus vodka.