Ladies Night Martini Party
My daughter recently graduated from college and was missing her friends. She organized a Ladies Night Martini Party which involved six twenty-somethings, 2 different types of martini cocktails, a sleepover, a mountain of luggage and hours of telling stories and giggling.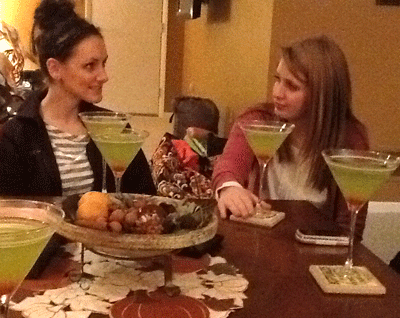 Being the Theme Party Queen, I was brought in early in the evening to mix up the martinis.
The first martini they chose was from this website, the Pear Vodka Martini. My martini shaker only mixes two at a time so I had to make them in batches but it didn't take long to whip up 7 (one for me too!) of these crisp and cool cocktails.

How To Make a Pear Martini
1 shot of Pear Vodka (Smirnoff or Absolute)
1/2 shot of Melon Liquor like Midori
1/2 shot of Peach Schnapps
Pineapple juice to taste
Mix all ingredients together in a shaker with ice. Pour into your favorite cocktail glass. This drink not only tastes good but it's a beauty to look at.
The reaction was mixed. Some of the gals are not fans of strong liquor drinks so for them I added more pineapple juice. Another gal was not a fan of vodka at all so this was a hard drink for her to handle.
Overall, we decided that this is definitely a drink to sip and enjoy over time. It's very tasty when sipped and has that WOW factor when you hand it to somebody.
Ladies Night Martini Party - Drink #2
The next drink they chose for their Ladies Night Martini Party was from my Cocktail Ideas Menu, the "Mango Madness."
How To Make a Mango Madness Martini
1 shot of rum
1 shot of Malibu rum
2 shots of mango juice
Put all ingredients in a martini shaker with ice. Shake until very cold then pour into a glass. Wish I had one of those large martini shakers that makes 4 at a time. Someday.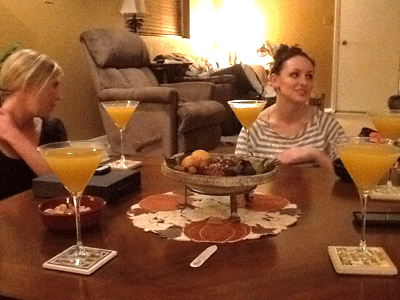 I didn't have any juice so I used mango nectar, which I will NOT be doing again. Nectar is deep in flavor but it's thicker than juice and I really didn't care for the pulpy body of the drink.
The girls loved this one though I think because it doesn't have that "kick-your-butt" kind of liquor taste like the Pear Martini does.
Since they had just eaten dinner, hosted by the mother of one of the girls, I just put out a "nut smorgasboard" as I called it. Several bowls of different nuts, including walnuts, cashews and pecan.
Munching away on nuts, sipping fruity cocktails, telling stories and giggling. What could make this evening even better? Well a trip to a local establishment to meet up with more friends, of course! My husband drove them safely to town and a cab brought them home.
The next morning, my daughter made her famous Banana Nutella Crepes for breakfast and the girls headed home.
I have hosted similar ladies nights at home including a ladies night fondue party. You can see a picture of my 5 friends sitting at the fondue table just before we dug in. In the first photo, my friend Barb is the first one on the left. She brought her Bok Choy Oriental Salad which has become a favorite fondue side dish.
More Ladies Night Martini Party Fun
My daughter and her friends are not the only ones who enjoy a ladies night martini party! Recently my friend Saundra invited 5 of her best girlfriends over for dinner (well actually her husband did to celebrate her 50th birthday).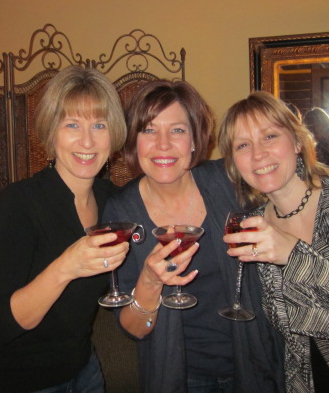 As soon as we walked in the door, he handed us a Pomegranate Cosmo. That's me on the left. I could only handle 2 cocktails because they were pretty strong but very tasty.
I love these kinds of ladies night in parties, especially if you keep the group small, say 6 or less. They are easy to organize and very relaxed. Find more ladies night party ideas here.