Sweet Potato Fries
by Sandee
(IL)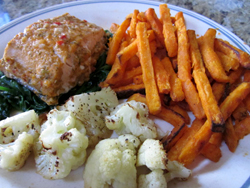 I thought about this idea for using Sweet Potato Fries as an appetizer quite by accident. It was one of those nights when you are frantically looking through the freezer and pantry trying to put something together for dinner.

I had all the ingredients for : Chili Grilled Salmon but what to serve with it? There in the freezer was a bag of Ore Ida Sweet Potato Fries.

I thought salmon and fries alone were kind of boring so I added some sauteed spinach and roasted califlower BUT I also asked my son to whip up a quick dip for the fries.

Using Ranch Dressing and Franks Red Hot he made the best dip for the fries. I can't tell you the exact proportions of each but you can mix it up until it tastes good to you.

I decided that just the fries with the sauce would make a perfect appetizer. There is something about combining the sweetness of the fries with the heat of the sauce that makes you want to eat the whole plate.

Why do I think this makes the perfect party appetizer? Because you can make huge quantities of it pretty inexpensively. Try it out and post back here to let us know what you think.





Want To Stay In Touch With Theme Party Queen?
Here's how you do it:
Our goal is to create a community of like-minded people who like to share ideas and who are open to making new friendships. We would love for you to join us today.