70s and 80s Cocktails
I grew up during the time when the 70s and 80s cocktails below were popular. I have tried them all. Some I love; others not so much.
Whether or not you have tried them yourself, all of these vodka recipes and others are classic cocktails that are worth considering especially if you are hosting a seventies or eighties theme event.
Eighties Drink, Long Island Ice Tea Ingredients
Long Island Ice Tea cocktails are dangerous because you can't even tell there are 5 different kinds of alcohol in them. Consider this your warning! We like this one for an eighties theme event because you can make a large quantity and serve it in a punch bowl. You might also like the Black Iced Tea Cocktail which is very similar to a Long Island.

Long Island Ice Tea Ingredients
1 part vodka
1 part tequila
1 part rum
1 part gin
1 part triple sec
1 1/2 parts sweet and sour mix
1 splash cola
Lime slices
Mix ingredients together in a shaker and give one brisk shake. Pour into a glass and make sure there is a touch of fizz at the top. Garnish cocktails with lime.
Long Island Iced Tea Video
Watch the Long Island Iced Tea being made, courtesy of Other Such Productions, plus a couple variations that sound tantalizing including a Long Island made with cranberry juice instead of cola.
Find more easy drink recipes here that can be served in punch fountains, bowls and other beverage dispensers.
Seventies Cocktail, Harvey Wallbanger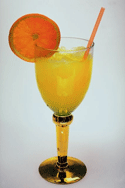 I remember my Mom serving this seventies cocktail at parties she hosted in the seventies and eighties, probably because the Galliano bottle was so unique that it stands out in my memory. I also remember her making a Harvey Wallbanger cake with an orange glaze. Yum!
Harvey Wallbanger Ingredients
1 oz vodka
4 oz orange juice
Splash of Galliano
Orange slice
Pour vodka and orange juice into a tall glass filled with ice cubes and stir. Float Galliano on top by pouring slowly over a teaspoon turned bottom-side up. Garnish cocktails with an orange slice. Makes one Harvey Wallbanger cocktail.
Popular Seventies Kamikazee Shots
One of the most popular seventies cocktails during this time was the Kamikazee shot. The triple sec gives it just enough sweetness. Believe me, you need it! I remember doing plenty of these when I was in college in the eighties. Whoa!
Kamikazee Ingredients

1 oz tequila
1 oz triple sec
1 oz lime juice
Lime and lemon slices
Pour ingredients into a shot glass and serve. Garnish with lemon and lime slices. My daughter and her friends are in their last year of college and order these at the bar quite often. This seventies cocktail has really stood the test of time.
Eighties Drink, Fuzzy Navel Cocktail
The Fuzzy Navel eighties drink is pretty sweet, but I used to love them. Most likely, you will not want to drink more than one of these because they are so sweet. A nice cocktail for the beginning of your theme night.
Fuzzy Navel Ingredients
2 shots peach schnapps
3 shots peach brandy
1 1/2 shots triple sec
Orange juice
Cherries
Mix schnapps, brandy and triple sec in a highball glass. Fill with orange juice and ice to taste. Garnish with cherries. Makes one cocktail.
Seventies Cocktail, Amaretto Stone Sour
A popular seventies cocktail, Amaretto Stone Sours are still being served in bars all over the States. It's a sweeter drink but the sour mix tones it down a bit making it alot easier to take than Fuzzy Navel cocktails, in my opinion.
Amaretto Stone Sour Ingredients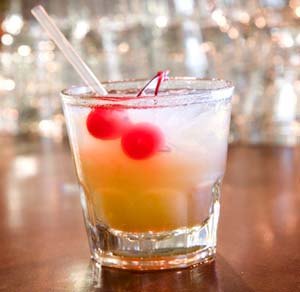 1 part amaretto almond liqueur
1 part sweet and sour mix
1 part orange juice
Cherries
Mix ingredients together in a shaker and shake for 30 seconds. Pour into glasses and garnish with cherries.
For a much smoother cocktail, learn how how to make homemade Sweet and Sour Mix. Find the recipe midway down the page with the recipe for Margarita Martinis.
More 70s and 80s Cocktails
I just thought of another one that was a favorite of mine in the eighties. Ginger flavored brandy mixed with ice and gingerale! What a crispy, cool drink on a hot summer night. Loved these! I haven't seen Ginger brandy in the stores lately so it might be hard to find.
Got an easy seventies or eighties cocktail recipe to share? We would love to see your 70s and 80s cocktail recipes on our Visitor Submitted Cocktail Recipes page for others to enjoy. See what others have already contributed including the Mango Madness Martini and the Green Hawaiian cocktails.
In addition to these retro cocktails, you might also like to visit our seventies theme page and our eighties theme page.