Canned Pumpkin Recipes
One of the most common canned pumpkin recipes is the classic Libby's Homemade Pumpkin Pie recipe, but there are so many other dishes that you can make using this convenient ingredient.
Last year, there was a shortage of pumpkin puree in the local grocery stores and I couldn't find it for several weeks. That will never happen to me again!
Now I keep several cans in my pantry at all times and make all sorts of yummy recipes with the stuff. The most amazing thing about it is the range of dishes that you can make, both sweet and savory.
From a fantastic dessert like Holiday Pumpkin Bars to a savory dish like Ziti w/Pumpkin and Sausage, the types of canned pumpkin recipes that you can make with this staple ingredient is endless.
Grandma's Pumpkin Butter Recipe

When I was a little girl, I remember when my sister and I used the spend weekends with my Grandma. She was the best cook and every morning served a full breakfast complete with eggs and homemade biscuits.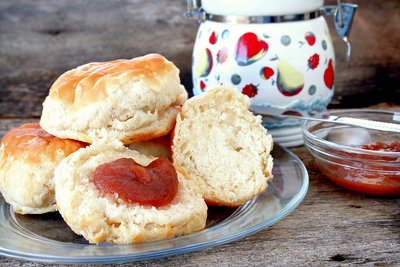 In addition to having a fruity jam of some sort, she also served either an apple butter or a pumpkin butter to go along with the biscuits. Here is her Pumpkin Butter Recipe.
2- 15 oz. canned pumpkin (not pie filling)
1 cup maple syrup
1/2 cup apple cider or juice
1 tablespoon lemon juice
1 teaspoon ground ginger
1 teaspoon ground cinnamon
1/2 teaspoon ground nutmeg
1/4 teaspoon ground cloves
1/4 teaspoon salt
In a large sauce pan combine all ingredients. Simmer, uncovered, for 25 minutes or until thick. Stir every few minutes to make sure ingredients do not stick and are well blended. Remove from heat and cool completely.
This recipe makes about 4-1/2 cups so you can ladle into jars or freezer containers and store for later use. Keep in refrigerator for up to 1 week or freezer up to 6 months.
Pumpkin Bread Pudding Recipe With Vanilla Custard Sauce
One of the things my mother in law and I share is a love of cookbooks. Both of us can look through them for hours and be as happy as larks.
She has a dear friend whose family put together a fantastic cookbook of their favorite recipes and I was lucky enough to get one as a gift. If I had to choose my top 5 favorite cookbooks of all time, this book would definitely make the list.
Here is their Pumpkin Bread Pudding Recipe With Vanilla Custard Sauce.
Pumpkin Bread Pudding
4 cups milk
4 eggs
2 egg yolks
15 oz. canned pumpkin
1 cup sugar
1-1/2 tsp cinnamon
1/2 tsp nutmeg
1/2 tsp ground cloves
1/2 tsp ground ginger
3/4 lb. whole wheat bread, cut in 1/2 inch cubes
2 cups cranberries (fresh or frozen)
1/2 cup bourbon
Combine all pudding ingredients. Spoon into greased 9x13 inch baking pan. Bake at 350 degrees for 1 hour.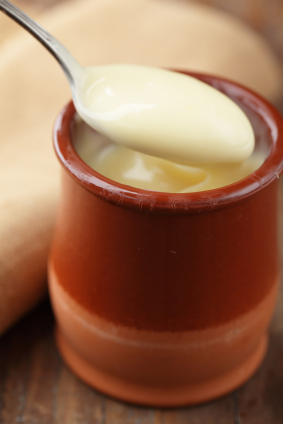 Vanilla Custard Sauce
2 cups half and half
6 egg yolks
3/4 cups sugar
1 tsp vanilla
Bring half and half just to a simmer in a saucepan. Combine yolks and sugar in a heatproof bowl. Add a very small amount of half and half to the yolks and sugar, beating constantly with a wire whisk. Pour mixture back into saucepan with remaining half and half, still beating with a whisk.
This step is called tempering the liquid and is very important because it keeps the yolks from curdling like scrambled eggs.
Continue heating over low heat and stir constantly until thickened and cn coat the back of a spoon. Do not boil. Stir in vanilla and keep warm until ready to serve with the pudding.
Spoon cooked bread pudding into serving dishes and ladle some of the vanilla custard sauce over the top. Serve the rest of the sauce on the side.
More Canned Pumpkin Recipes