Kahlua Baked Ham
This recipe Kahlua Baked Ham is a favorite for potluck and brunch affairs. It's simple list of ingredients create a delicious glaze that goes with all sorts of side dishes.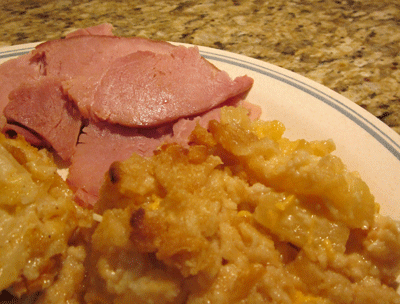 Ingredients
10 pound precooked ham
3/4 cup brown sugar
3 tablespoons Kahlua
1/2 cup Kahlua
2 tablespoons dry mustard
Whole cloves
Place ham with rind on a rack in a roasting pan, fat side up. Roast in 300 degree oven, 18 minutes per pound. During last hour, trim rind, score fat and stud with cloves.
Sprinkle top with brown sugar, then 3 tablespoons Kahlua. Pour 1/2 cup Kahlua mixed with mustard into the pan. Baste frequently with pan syrup.
When I made this ham, I served it with my Mom's Cheesy Party Potatoes and our favorite Scalloped Pineapple recipe. It is the perfect holiday meal because you can easily adjust each recipe for the number of guests you are serving.
More Kahlua Recipes
Cocktails with Kahlua
Hummer + 4 more Cocktails
Fancy Coffee Recipes
Kahlua Eggnog Pie
Chocolate Kahlua Cupcakes
Kahlua Frosting and Other Desserts
Another Popular Ham Recipe - Apricot Glazed Ham
The combination of spices and the sweetness of the brown sugar and juice mixture creates a glaze that is very tasty.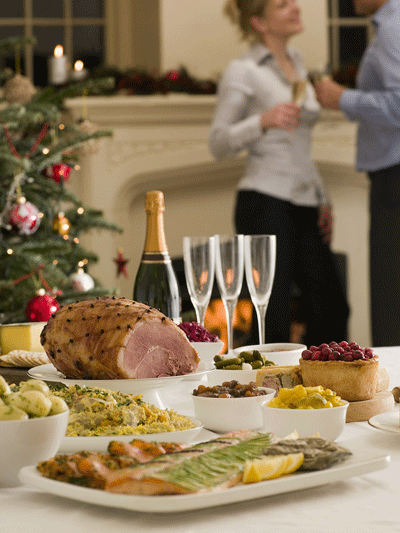 1 medium size boneless ham
2 T. ground coriander
2 T. ground ginger
2 T. dry mustard
Whole cloves
1 cup brown sugar
Pineapple juice
Apricot or Apple brandy
Preheat oven to 400 degrees. Trim excess fat and skin from ham and place on a rack in a shallow baking dish.
Score the ham across diagonally one way and then the other to create criss crosses. Insert cloves at each cross.
Combine spices and sugar in small bowl. Add enough pineapple juice and/or brandy to make a spreadable paste.
Brush the ham with a thin layer of the paste mixture and bake 1/2 hour at 400 degrees. Reduce heat to 300 degrees.
Continue baking for 3 hours, basting top with paste mixture every half hour until all paste is used.
Let ham rest for 15 minutes and slice just before serving.
Side Dish Suggestions: Besides serving ham with Mom's Cheesy Party Potatoes and our favorite Scalloped Pineapple recipe, I also recommend trying my Grandma's Dilled Carrots. You won't believe how something so simple could be so delicious.